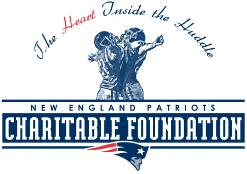 NEW ENGLAND PATRIOTS CHARITABLE FOUNDATION WILL DONATE NEARLY 1,000 PIECES OF GILLETTE STADIUM FURNITURE TO SIX NONPROFITS
FOXBOROUGH, MA — The New England Patriots Charitable Foundation will be donating nearly 1,000 pieces of used Gillette Stadium tables and chairs to six local nonprofit organizations. Upon arrival, nonprofits will select their desired furniture and will be assisted by movers from Gallo Moving & Storage, which is donating its services of loading the furniture onto trucks as part of the ongoing Celebrate Volunteerism campaign.
The event will take place on Thursday July 26th 2012 between 9am and noon at Gillette Stadium, 1 Patriot Place, Foxborough, MA.
The nonprofits receiving donations are:
Boys & Girls Club of Woburn
Boys & Girls Club of Lower Merrimack Valley
Dorchester Youth Collaborative
Family Service of Greater Boston
The Wish Project
United Way of Tri-County
---
About Celebrate Volunteerism
The New England Patriots Charitable Foundation is the 501(c)(3) non-profit entity created by the Kraft family to support charitable and philanthropic agencies throughout New England. This support comes in the form of direct grants and the donation of signed memorabilia to a variety of charitable causes, and from Patriots players who offer their direct support by appearing at charity functions throughout the year. The Foundation's primary goal is to support programs that aid the youth and families of New England while underscoring the Kraft family's deep commitment to philanthropic activities in the community. Over the past 18 years, the Foundation has made millions of dollars in donations to thousands of non-profit organizations throughout New England and has partnered with numerous community groups, including the Boys & Girls Clubs of Boston, the United Way, the Greater Boston Food Bank and a host of other New England charities. The Foundation actively supports non-profit groups focusing on health, education, youth fitness and community enrichment while also implementing its own programs in those areas of focus. In seasons to come, the Foundation's "Celebrate Volunteerism" initiative aims to recognize deserving volunteers and inspire others to follow Myra Kraft's example of becoming a life-long volunteer. For more information about "Celebrate Volunteerism" visit www.patriots.com/community.
For more information, Visit Celebrate Volunteerism.
---
About Gallo Moving & Storage
Our commitment to service and "doing the right thing" are not just clichés at Gallo Moving & Storage — they are what we live by.
We are actively involved in our communities. Gallo Moving & Storage supports Project Smile, Boys & Girls Clubs, New Hope, South Shore Habitat for Humanity, Milford Rotary Club, Salvation Army, Bentley University, Franklin Adirondack Club Swim Team, Keller Elementary PCC, along with various other smaller groups and fundraisers in which owner Tony Gallo or his employees are involved.
We are proud to work with New England Patriots Charitable Foundation to help support their support charitable and philanthropic work throughout New England.